When my daughter was young, she had a pet betta fish. Like most betta fish, it didn't live very long. But, when it died, Margaret was distraught. To help her deal with her considerable grief, I suggested that she organize a service for her little departed pet.
In good, organized Margaret fashion, she gathered some of the neighborhood children for the service. As the traditional church-goer that she was, Margaret wrote out a program for the service, with a drawing of the fish, and above that drawing a title, summing up her sentiments of the occasion, "This Is It."
Well, that's about how I'm feeling as I contemplate the swearing in of the new president. This is it. And, it isn't good. In fact, I'm starting to feel at least a little distraught myself—though I hide it well under a veil of manhattans.
In the past, I certainly haven't been excited about the swearing in of other Republican presidents. But, this is different, very, very different. In the past, I haven't felt nearly so demoralized or despairing.
This time, it feels like "this is it." And, it's not exactly because I think the world is actually going to come to an end, at least I hope not. I just have never been able to get past Donald Trump's treatment of women. We all know that there have been plenty of other presidents not even so long ago who've had problematic views of and relationships with women—presidents who have been unfaithful to their wives, who have used the power of the office for sexual conquests, etc. Trump is different, though. With him, it's not just about infidelity or sexual conquests. The whole grabbing of women in the you know where, the unsettling stalking of contestants at his beauty pageant, and all the vile things that he has said about women, all on full and complete display—in his own words, undisputed. And, people—including lots of women—voted for him. The Creepmander-in-Chief. Yuck.
I've been having a hard time listening to or watching the news—even NPR and the New York Times. The Times recently ran an article on the women who voted for Trump, in their own words. The headline read, "You Focus on the Good."
What good?
It just feels so horrible. And, somewhere in the midst of the moments when I find myself dwelling on this wretched situation, I admit that my thoughts wander to that place where I wonder about the part my own beloved religious tradition has played in creating this most unfortunate situation. Christianity, after all, hasn't had a particularly stellar record in its treatment of women.
Scripturally, there's little support, especially in the New Testament, for the objectification or oppression of women. Certainly one important example of the significance of women to the faith—among many—is the witness of Mary Magdalene on that first Easter morning. It should be further noted that though Mary Magdalene is regularly referred to in some way as a prostitute, there is no actual scriptural evidence for such a claim.
Christian scriptures may honor and recognize the significance of women, but the practice of the faith has not exactly followed along. It was the practice of the faith after all, and not the scriptures, that made Mary Magdalene into a prostitute. And still today, we struggle with the place of women. Even women have a hard time supporting other women— in our communities, in the church, and clearly in the highest elected office in the country.
Today, a creepy stalker becomes President of the United States.
Tomorrow, I'll be at the rally in Augusta, the local "sister" event to the Women's March in Washington, standing with a group from the Maine Conference United Church of Christ, with our "Be the Church" banner: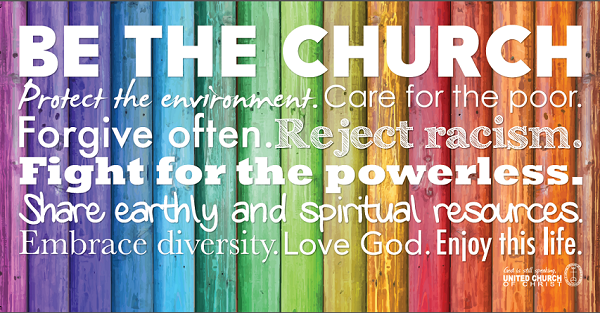 I'll hope that something will come of tomorrow, that it will serve as a starting point for new awareness and new commitment. I don't hold out much hope that the new creepmander-in-chief will take much notice, or even understand why we stand against him.
Mr. Trump did not win the popular vote, and there's a bit of comfort in that, but there's lots of work to do. And that includes work that must be done in the church and in the Church. It's a different kind of "this is it" moment. We've had time to grieve, now it's time to move forward and do the work that we are so clearly called to do.